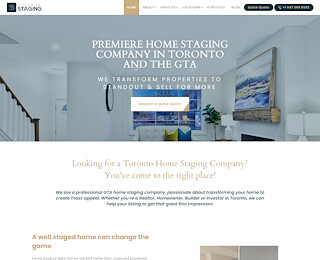 Unlock the Power of Home Staging with Toronto's StyleBite Staging Company
Welcome to StyleBite Staging, where we combine aesthetics, strategy, and market knowledge to create an irresistible atmosphere for prospective home buyers. Serving the Greater Toronto Area, we specialize in occupied home staging, vacant home staging, and condo staging. But we don't just stage homes; we stage experiences, tapping into the psychology of potential buyers to evoke a sense of home. Whether you are a realtor, homeowner, builder, or investor in Toronto, you can count on us to elevate your listing with high-quality home staging that pays dividends.
The Intricacies of Occupied Home Staging
Occupied home staging is an art form that maximizes the aesthetic appeal of a property while utilizing existing furniture and accessories. At StyleBite Staging, we take the time to evaluate each room, providing tailored recommendations for de-cluttering and reorganization. We may also bring in selected pieces from our extensive collection of furniture, accessories, and artwork to enhance the existing style and condition of your home. Trust us to turn your home into a welcoming space that captures the imagination of potential buyers, making them envision their life within its walls.
Boost Your Listing with Vacant Home Staging
For those homes that are empty shells, our vacant home staging service comes into play, setting the stage for a successful sale. We provide all the furniture, artwork, and accessories needed to bring your property to life. Our designs are meticulously planned, targeting your specific demographic and style of the home. We offer various packages tailored to meet your budget and square footage requirements, providing you with an accurate quote after an initial consultation. With StyleBite Staging, your vacant property will be transformed into a dream home, enthralling visitors and shortening its time on the market.
Why Condo Staging Is a Specialized Skill
Staging a condo is not merely a scaled-down version of home staging. At StyleBite, we understand the unique challenges that condo staging brings: space limitations, lighting constraints, and a distinct buyer demographic. Our in-depth expertise and specialized inventory allow us to navigate these challenges effectively, making any condo appear larger and more inviting. If you're planning to sell a condo in Toronto or the GTA, entrust it to us, the region's leading experts in condo staging.
Elevate Your Listing with Expert Consultation
StyleBite offers professional home staging consultations that cover every detail to elevate your home's market appeal. We prioritize your budget to yield maximum ROI, furnish your space for attractive photographs, and execute successful showings. Our consultation service provides you with an in-depth, room-by-room assessment, revealing how to capitalize on your home's strong points and mitigate its weaknesses. If necessary, we also provide you with a comprehensive staging proposal.
Understanding the Return on Investment (ROI) in Home Staging
Many homeowners wonder if home staging is worth the cost. The statistics speak volumes. On average, 86% of staged homes see a 6-25% increase in their final sale price. Strategic home staging makes the property resonate with a buyer's desired lifestyle, often leading to quicker sales and higher offers. When you choose StyleBite, you're not just enhancing your home's appearance; you're making a sound investment.
The Clock is Ticking: Faster Sales through Home Staging
Time is of the essence in real estate, and home staging can significantly expedite the selling process. In fact, 86% of staged homes sell faster than unstaged homes. By creating an appealing atmosphere, StyleBite Staging helps you leapfrog over competitors, accelerating your journey to the signing table.
First Impressions in the Digital Age
In today's world, where 90% of buyers commence their home search online, your listing's digital presentation is paramount. High-quality photos can make or break a sale, and 77% of potential buyers claim that staging helps them better visualize the property as their future home. Partnering with StyleBite ensures that your home not only looks great in person but also shines in your online listings.
Meet Mythily, the Heart and Soul of StyleBite
Hi, I'm Mythily, the founder of StyleBite Home Staging. I'm not just passionate about creating visually stunning listings; I'm obsessed with it. I am a Certified Ultimate Stager and an affiliate of the Real Estate Staging Association (RESA). At StyleBite, we don't just set a stage; we create a narrative that invites potential buyers to envision a life they would love to live. Our ultimate goal is to evoke that pivotal "aha" moment that turns lookers into buyers.
Package Flexibility for Every Need
StyleBite Staging offers various home staging packages tailored to your specific needs, whether you're marketing your home independently or seeking a comprehensive staging solution. We've got something for everyone, ensuring that you can present your home with complete confidence.
The StyleBite Success Stories
Don't just take our word for it. Our success stories are a testament to the transformative power of home staging. We've turned countless houses into homes, sparking the imaginations of buyers and sending our clients to the signing table with smiles on their faces.
As you explore your options for presenting your property in the best light, consider StyleBite Staging. Our attention to detail, understanding of market trends, and dedication to customer satisfaction set us apart. Whether you're selling a home, a vacant property, or a condo, our team is committed to ensuring your listing stands out, garners attention, and secures offers. Feel free to reach out to us to discuss your needs or to schedule a consultation. We are more than happy to lend a hand and are excited to help you achieve a quick sale for top dollars. Trust us, home staging with StyleBite is not just an aesthetic choice; it's a strategic move that pays off. Don't leave your sale to chance. Contact us today.